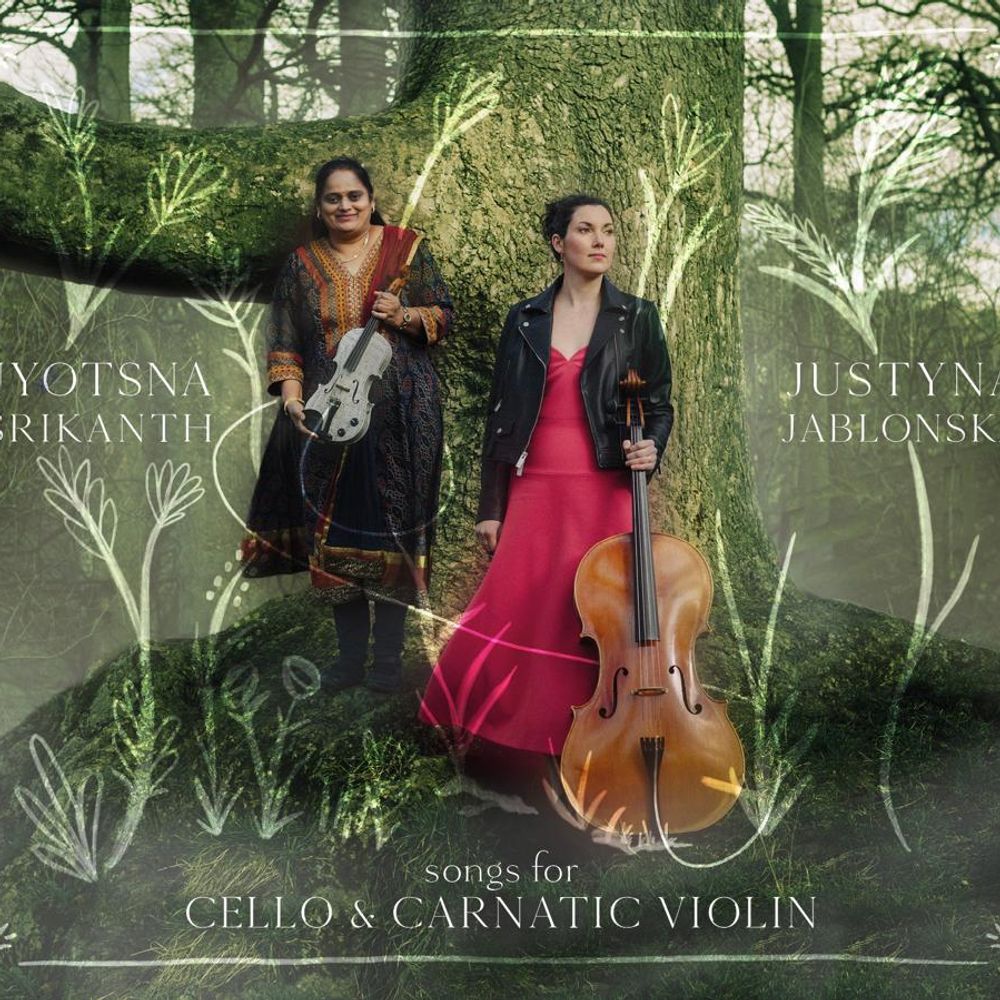 Justyna and Jyotsna
Justyna Jablonska, a prominent cellist in Scotland's contemporary classical scene, collaborates with Jyotsna Srikanth MBE, a globally acclaimed Carnatic violinist. Together, they pioneer a fusion of Western classical and Carnatic vocal traditions, using the cello—a Western instrument often compared to the human voice—to embody the singer's role.
Blending South Indian melodies with electronic elements and innovative improvisations, their ensemble is among the first to introduce the cello to Carnatic music. Their music navigates through the expanse of complex human emotions.
Album
Their first album, "Songs for Cello and Carnatic Violin", was released in September 2022, with full support from Creative Scotland. It breaks new musical ground whilst honouring South Indian history. "Songs for cello and Carnatic violin" will broadly appeal to audiences and fans of classical and global music. 
Biographies
Justyna Jablonska is a Polish cellist based in Edinburgh, UK. During the past decade, she has carved out an exciting career at the forefront of both Western contemporary classical and global music. A virtuoso and an improviser, Justyna is passionate about electronic music, cross-disciplinarity, and experimental performance. 
Jablonska began her career in Poland, before studying at the Royal National College of Music under Peter Dixon, and privately with Éric-Maria Couturier, from Paris' Ensemble Intercontemporain. She joined the Lucerne Festival Academy in 2014, working with Sir Simon Rattle, Barbara Hannigan, and Matthias Pintcher, and continues to perform as an alumnus. She is currently a PhD candidate at the Royal Conservatoire of Scotland, where she is a recipient of a Carnegie Trust Scholarship. 
An avid performer, Jablonska is recognised for her talent, versatility, and diverse repertoire. She regularly performs at classical and world music events across the UK and Europe. As a soloist, she has performed with the RNCM Symphony Orchestra, H. Wieniawski Symphony Orchestra, and the Swedish National Orchestral Academy (as principal). She has performed at world-leading music festivals, including Allegro Vivo Festival, Edinburgh Jazz Festival, and Celtic Connections. In 2016, 2020, and 2022, Jablonska was chosen to perform in the Made in Scotland Showcase at the Edinburgh Festival Fringe. 
Jablonska has collaborated with Scottish classical guitarist Simon Thacker since 2013. In 2017, they recorded their debut, folk-fusion album Karmana. Blending Scots ballads and Gaelic laments with Roma and Polish folk, Karmana broke exciting, new musical ground and was received with critical acclaim: **** (The Scotsman), 'virtuosity' (The Herald), 'mesmeric' (ATTN Magazine). 
Her follow-up album Strata was recorded with violinist and fellow RNCM graduate Emma Llyod in 2021. An album of experimental, free-improvisations, mixing classical string duo with electronics and FX, Strata was toured in both Europe and the UK. Proceeds from album sales were used to support Sonic Warehouse, an experimental, new music series, launched by the duo in 2020. 
In 2022, Jablonska will release her third album, with the support of Creative Scotland. Recorded with South Indian musician and world-renowned Carnatic violinist, Jyotsna Srikanth, the album seamlessly blends Western contemporary classical and Carnatic music in an exciting new, intercultural musical fusion. 
Jyotsna Srikanth 
Born and raised in Bangalore, Jyotsna Srikanth is the world's foremost South Indian violinist. Approaching every musical interaction with a forward-thinking outlook and elastic expressivity, Srikanth is just as likely to be found revelling in raga rotations as jamming in free jazz.  
Srikanth currently enjoys a demanding career as an eminent solo musician. Her 2013 album Call of Bangalore (Riverboat Records) cemented her position as 'an extraordinary and versatile violinist' (The Guardian), and a 'major instrumentalist of vision and imagination' (fRoots).  
In a career spanning 25 years, Srikanth has performed in major music festivals all over Europe. She has showcased her work for WOMAD, WOMEX, the Red Violin Festival, and BBC Proms, as well as lecturing in music at the University of Cambridge and Liverpool University. 
She also has a successful career lending her talent to the film and television industry. Srikanth has previously worked for National Geographic and the Discovery Channel, as well as playing on more than two hundred South Indian cinematic soundtracks to date. 
Srikanth is the founder and curator of London International Arts Festival and currently leads Dhruv Arts, a UK-based not-for-profit educational organisation. 
Jyotsna was awarded an MBE in 2023 for her services to music.